Börek stuffed with white cheese

30 min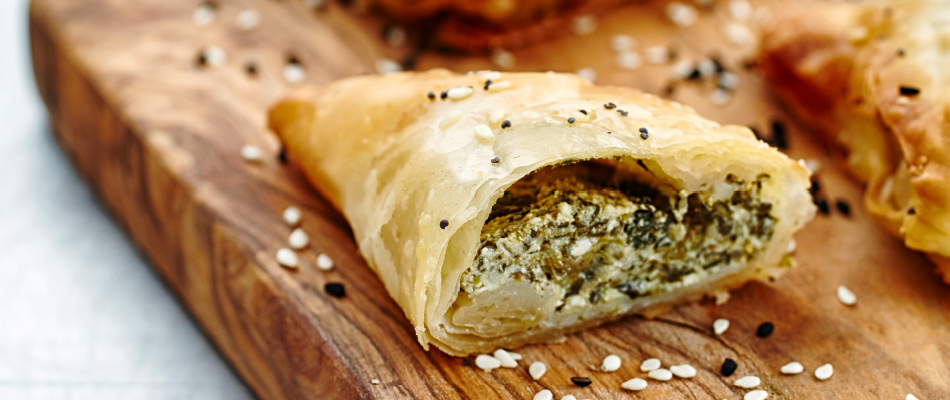 Show recipe

PREPARATION
Melt 100 g butter in a saucepan and then pour the butter into a bowl with the milk, yogurt, salt, pepper and 2 eggs. Mix everything together. Crush the ÖMÜR shepherd's cheese with a fork, finely chop the washed parsley and mix with the cheese.
Butter a flat baking tin, put a layer of yufka on it, letting the ends hang out over the edges of the mould. Pour a little of the milk mixture on top. Put a second dough sheet on that, moisten with the milk mixture and cover with half of the cheese filling. Place the third layer of dough, pour some of the milk mixture over the dough and spread evenly. Place the fourth dough sheet, moisten with the milk mixture and spread the rest of the cheese on top. Moisten the last two sheets of dough with the milk mixture. Pour the rest of the milk mixture over the whole thing, fold the edges inwards and add a few pats of butter on top.
Bake at 200°C for about 45 minutes. Serve hot.

Manti with yogurt sauce

60 min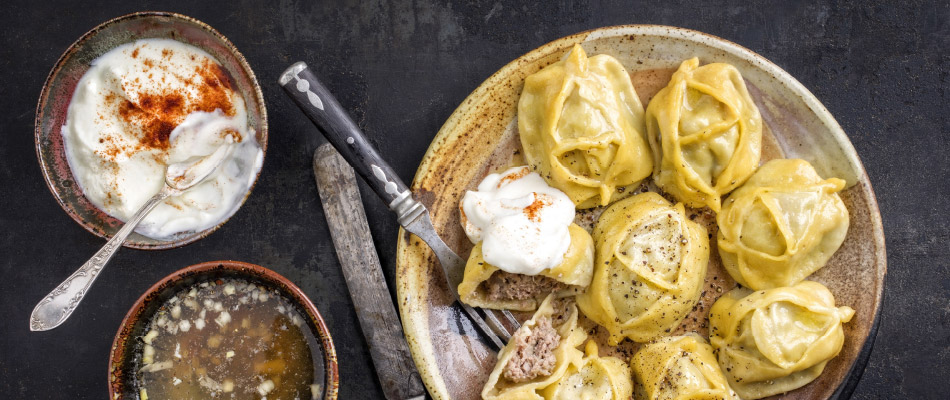 Show recipe

INGREDIENTS
For the dough:
| | |
| --- | --- |
| 500 g | flour |
| 2 | eggs |
| 1 tsp | salt |
| approx. 180 m | water |
For the filling:
| | |
| --- | --- |
| 200 g | ground beef |
| 2 St | diced onions |
| 1 handful | finely chopped parsley |
| 1/2 tsp | salt |
| 1/2 tsp | freshly ground pepper |
| 1/2 tsp | ground sweet paprika |
| 1/2 tsp | dried mint |
For the yogurt sauce:
| | |
| --- | --- |
| 700 g | ÖMÜR Yogurt 3.8 % |
| 2 | minced cloves of garlic |
| 1/2 tsp | salt |
PREPARATION
Put flour in a bowl. Add salt, egg and water and knead into a firm pasta dough. Cover and let rest for about 20 minutes.
Add all ingredients for the filling to a bowl and mix.
Dust the work surface with flour and roll out the dough as thinly as possible. Cut the dough into squares about 2–3 cm in size. Place 1/4 tsp of the meat filling on each square. Fold the opposite corners together over the filling, creating small "pyramids".
Stir the ingredients for the yogurt sauce until a creamy mass forms.
Boil water in a large pot, lower to a simmer, add salt and the mantı dumplings and cook for about 5 minutes over medium heat. Drain in a sieve and serve immediately.
Serve with some yogurt sauce and garnish with mint and sweet paprika.

Pide with cheese and vegetable filling

30 min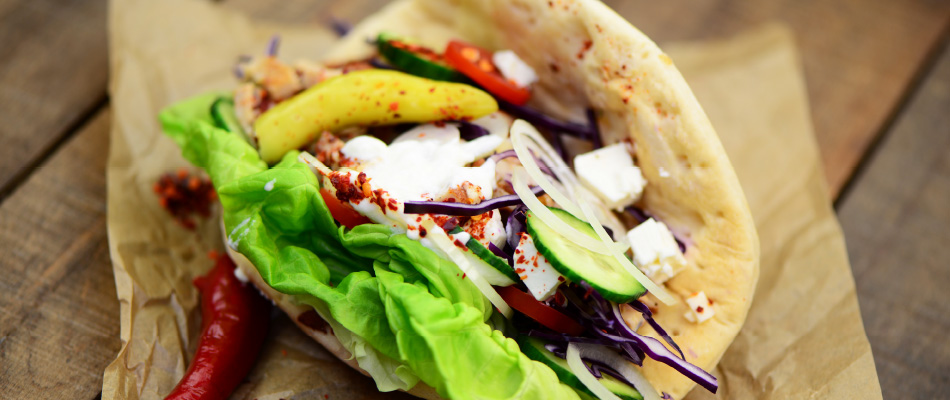 Show recipe

INGREDIENTS
For the filling:
| | |
| --- | --- |
| 1 | pide |
| 400 g | ÖMÜR White Cheese 55 % |
| 2 | onions |
| 1 | tomato |
| approx 1/4 | cucumber |
| 2-3 | lettuce leaves |
| 50 g | red cabbage |
| 1-2 | peppers as desired |
For the yoghurt sauce:
| | |
| --- | --- |
| 200 g | ÖMÜR Yogurt 10 % |
| 1 | minced clove of garlic |
| 1/4 tsp | salt |
| 2-3 tbsps | oregano |
PREPARATION
For the yogurt sauce, mix the ÖMÜR Yogurt with 1 clove of garlic. Season to taste with salt and oregano.
Cut the onions, tomato, cucumber and red cabbage into small pieces. Dice the ÖMÜR White Cheese.
Bake flatbread in the oven until crispy, cut open and fill with the ingredients as you like